The international colloquium THE VISUAL DIMENSION will attempt a critical review of the effects that current trends towards visualisation or the integration of visual elements have on contemporary music.
Adding a visual dimension to a new music project more often than not appears to be little more than a strategy meant to lure audiences to contemporary music events who supposedly do care for concept art or installations signifficantly more than for the avantgarde of sound.
This colloquium will adress a problem defined as the lack of a genuine need for a visual dimension - apart from the marketing aspect - which is felt in quite too many of the respective current production and at the same time put a focus on maybe more promising options which may come from a fresh contextualization of contemporary music, reminding the eminent social and political power of an art form, which has always been a number one target of fascists and dictators of any kind.
At the same time the workshop for the related project "The Economy for the Common Good" will explore new ways in the aestehtics and practicalities of film and music, both performed live and used as a sound track. The workshop will not only take advantage of the lectures and discussion of the colloquium, but look into the matter with two short speeches on music + film (by composer Iris ter Schiphorst) and film and music (by filmmaker Michelle Kranot).
Click here for more information and the full programme

The colloquium will be held in English language.
Please register via email to info@klangforum.at
Free admission!
Programme:
2.30 p.m. – Opening
Christos Carras, Executive Director & Artistic Director of Music @Onassis Stegi | Project Manager of the Interfaces network
2.45 p.m. – The Visual Dimension
Key note by Georg Friedrich Haas
Visual elements as a means of musical expression. An account of a composer's experiences
4.15 p.m. – Music & Film
Kick off by Iris ter Schiphorst
New strategies and options
3 p.m. – Extending the narrative, augmented reality in music projects
Lecture by Ludger Brümmer (ZKM/Interfaces)
Demonstration of technology's special features and potentials through samples of augmented narration
4.30 p.m. – Film and movement as polyphonic layers in musical performance
Lecture by Jennifer Walshe
Technical and aesthetic approaches – workflow, notation
6 p.m. – Conclusions & Farewell
Sven Hartberger (Klangforum Wien/Interfaces)
Co-organised by Klangforum Wien, ZKM & OCC, Tricky Women, and Amour Fou, in cooperation with mica and Internationale Musikforschungsgesellschaft (Wiener Konzerthaus).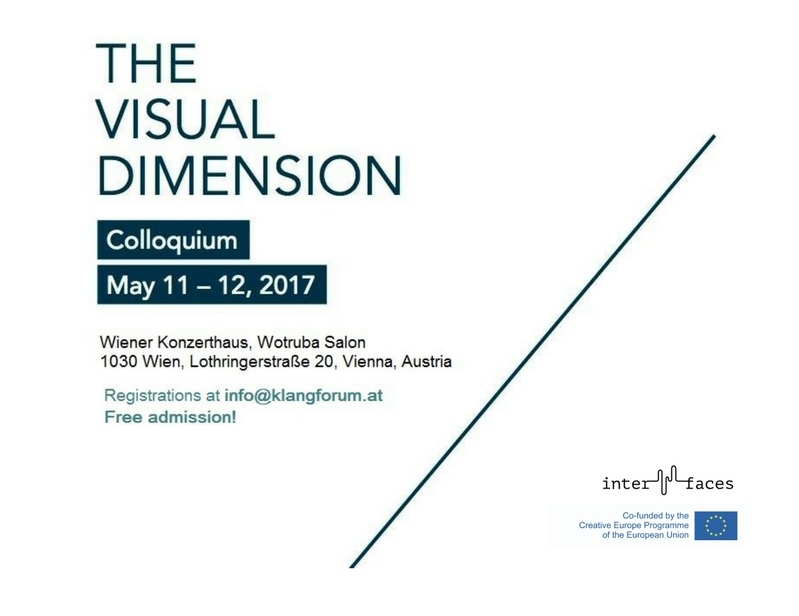 11 & 12 May 2017
Thursday 11th of May at 14.30
Friday 12th of May at 15.00
Wiener Konzerthaus, Wotruba-Salon
1030 Wien, Lothringerstraße 20,
Vienna,
Austria